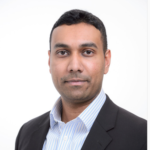 Hi, I am Nadim Bahadoor, the founder of www.allaboutscala.com. First of all, I would like to thank your for taking the time to visit my website. 
I hope you are finding the Scala tutorials very useful and that they help to shorten your Scala learning curve! 
If you would like personalized on-site Scala training, please get in touch using the Contact page.
I have over 10 years of experience in building large scale real-time trading systems in the financial industry.
I currently work at Elsevier as a Senior Principal Engineer. The position is a subject matter expert on semantically linked knowledge graph, big data pipelines, PAAS and micro-services.
From 2015 to 2017, I worked for Nephila Capital  as a Senior Developer where I was responsible for the development of Nephila's next generation software solutions.
Prior to joining Nephila, I spent four years at BlackRock  in London as part of the core trading team focused on scaling the equity capabilities of BlackRock's Aladdin platform.
From 2005 to 2011, I was a front-office developer for Morgan Stanley's Capital Markets division in New York. I was responsible for the design and implementation of the precious metals trading platform, mortgage pricing systems and other real-time tools for the sales-force.
In 2004, I also worked as a systems developer for Maryland Institute College of Arts  in Baltimore, Maryland, USA.
I hold a Master in Computer Science from Stevens Institute of Technology, New Jersey, USA. I also earned a Bachelor of Arts in Economics and Computer Science from Gettysburg College, Pennsylvania, USA.
I was born on the picturesque island of Mauritius and now live in London, UK. I enjoy spending time with my family, working out, cooking, surfing and am also fluent in French.
If you would like personalized on-site Scala training, have any other questions, suggestions, or just want to say hi, please refer to our Contact page.